Clever Ads
Philippines Branch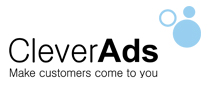 Manila Office:
Level 12 Robinsons Summit Center 6783 Ayala Ave
Makati City, Metro Manila, Philippines 1226
Tel: +63-2-949-8093 / +63-2-950-9544
Philippines Branch Manager: Ms. Hoa Doan (Nadia)
Mobile: +63-9062-899-760
Email: hoa.doan@cleverads.vn
If Google's mission is to organize the world's information and make it universally accessible and useful, CleverAds' mission is to help our clients maximize business opportunities from that intelligent information system.
With profound understanding of Google AdWords, we bring you professional consultancy to effectively utilize all the intelligent functions of the system. CleverAds is proud to be awarded the Google Advertising Professional Certificate (GAP) – the most prestigious certification of Google AdWords. With intensive experience in branding and marketing, our consultants can also help you establish advertising campaigns that meet your marketing goals at minimum costs and be ahead of your competitors.
Clients' benefits from our service:
– Professional consultancy: Not merely creating new accounts and displaying the ads, we carefully advise our clients on generating keywords, defining budget, and employing advanced techniques to maximize the AdWords system.
– Time and cost savings: Technical expertise, profound business knowledge and whole-hearted service are strong foundation for CleverAds to help clients obtain their business targets in the shortest time and at the lowest cost. Google AdWords has been proven to be one of the most effective advertising tools suitable with various sorts of businesses.
– Dedicated customer care: CleverAds helps clients closely monitor the performance of the advertising campaigns. We are eager to assist clients with any technology concerns or inquiries.